Region - Physicsis an international Open Access journal which aims to communicate to its readers, state-of-the-art technologies and methods on Physics. The journal welcomes original researches, reviews, physics experiments reports and important applications of Physics.
The journal seeks and encourages submissions on significant and original works related to all aspects of nuclear and particle physics, atomic, molecular, optical physics, condensed matter physics, astrophysics, applied physics, ontology, mathematical physics, fundamental science, elementary particles(such as quarks, neutrinos, and electrons), the largest superclusters of galaxies, etc.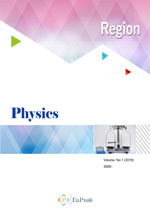 Privacy Statement
The names and email addresses entered in this journal site will be used exclusively for the stated purposes of this journal and will not be made available for any other purpose or to any other party.