Region - Personalized Medicine is an international Open Access journal which aims to communicate to its readers, state-of-the-art technologies and methods on Personalized Medicine.
The journal welcomes original researches, scientific and clinical research, reviews relevant to practice, case studies and important applications of Personalized Medicine. The article categories within the journal include(but not limited to) the following fields: Personalized Medicine: Personalized medicine, omics-based studies of disease risk, pharmacogenomics – genetics and biochemistry of drug uptake, action, and metabolism, disease prognosis, and response to therapy, biomarker identification and application, precision medicine, prediction-based drug safety, stratified medicine, P4 medicine, etc. Methodologies: Genetic-based, nanotechnology, targeting strategies Applications: Advances in personalised to create a more unified treatment approach specific to the individual and their genome Personalization of omics-based non-drug related health interventions Personalised medicine to earlier intervention, and more efficient drug development and therapies Regulation and bioethics in personalized medicine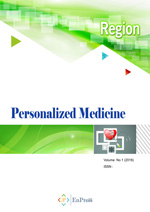 Privacy Statement
The names and email addresses entered in this journal site will be used exclusively for the stated purposes of this journal and will not be made available for any other purpose or to any other party.