Region - Mycology and Plant Pathology is an international Open Access journal which aims to communicate to its readers, state-of-the-art research technologies and methods on Mycology and Plant Pathology. The journal welcomes original researches, reviews and important applications of Mycology and Plant Pathology related analyses.
The journal centers on fundamental aspects of fungal plant interactions and the identification of genes that regulate pathogenic development, biological control, crop improvement, epidemiology and ecology, signal communication and programmed cell death(PCD), field crops, forest pathology, interaction between circadian clock and plant immunity, plant bacteriology, etc.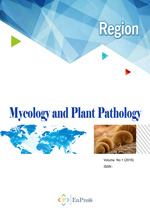 Privacy Statement
The names and email addresses entered in this journal site will be used exclusively for the stated purposes of this journal and will not be made available for any other purpose or to any other party.