Region - Computer Science and Information technology is an international, peer-reviewed journal published by American Enpress Publisher.It is a forum for scientists and engineers involved in all aspects of computer science and information technology to publish high quality and refereed papers. Papers reporting original research and innovative applications from all parts of the world are welcome. Papers for publication in the journal are selected through rigorous peer review, to ensure originality, timeliness, relevance, and readability.
The journal also seeks clearly written survey and review articles from experts in the field, to promote insightful understanding of the state-of-the-art and technology trends. All research articles in this journal have undergone initial editorial screen and rigorous peer review.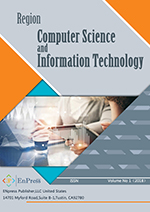 Privacy Statement
The names and email addresses entered in this journal site will be used exclusively for the stated purposes of this journal and will not be made available for any other purpose or to any other party.
Announcements
Journal News: Publisher's Note
We are pleased at the constructive and collaborative manner in which we were able to work with the Editorial Board Member. We appreciate those of scholars who help and support us running the Journal. We are reaching primary goal of launching journal, we hope our scholars will continue to pay attention and participate enthusiastically, and submit some high quality papers to our Journal. Thank you!
Posted: 2018-09-15