Region - Applied Sciences is an international Open Access journal which aims to communicate to its readers, state- of-the-art technologies and methods on Applied Sciences. The journal welcomes original researches, reviews and important applications of Applied Sciences related analyses.
The journal welcomes all aspects of applied biology, applied physics, applied chemistry and applied engineering. It has ten Sections: "Nanotechnology and Applied Nanoscience", "Chemistry", "Materials", "Energy", "Mechanical Engineering", "Optics and Lasers", "Acoustics", "Computer Science and Electrical Engineering", "Applied Biosciences and Bioengineering" and "Environmental and Sustainable Science and Technology".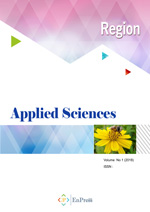 Privacy Statement
The names and email addresses entered in this journal site will be used exclusively for the stated purposes of this journal and will not be made available for any other purpose or to any other party.