Region – Sustainability is an international Open Access journal which aims to communicate to its readers, state-of-the-art technologies and methods on Sustainability. The journal welcomes original researches, the theoretical research relating to natural sciences, social sciences and humanities and review papers in all the aspects of Sustainability.
The journal publishes all the topics of challenges relating to sustainability(including: air pollution and climate change, water pollution and sanitation, toxic chemicals and hazardous and radioactive wastes, industrial development and energy crisis, population explosion and urbanization, degradation of ecosystems and species, and concomitant risks to human well-being, etc.), socio-economic, scientific and integrated approaches to sustainable development, Other topics related to sustainability, etc.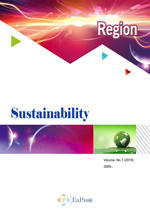 Privacy Statement
The names and email addresses entered in this journal site will be used exclusively for the stated purposes of this journal and will not be made available for any other purpose or to any other party.