Region – Publications is an international Open Access journal which aims to communicate to its readers, scholars, publishing professionals and librarians, the original empirical and theoretical research on the latest topics to address current issues and inform best practice.
The journal welcomes all the subjects of digitization and innovations in scholarly publishing technologies, theory and practice of scholarly communication, publishing policies and editorial/peer-review workflows, research integrity and publication ethics, copyright, licensing and legal issues in publishing, financial models for scholarly publishing, issues in the transition to open access and open science, etc.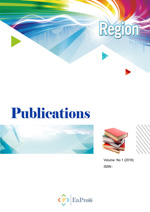 Privacy Statement
The names and email addresses entered in this journal site will be used exclusively for the stated purposes of this journal and will not be made available for any other purpose or to any other party.